By Lucas Rumancik, Certified Arborist
Leaning trees can be a beautiful addition to any home's landscape – until they become a safety hazard. If you're worried that your leaning tree might damage your property, don't worry! We've got you covered. In this blog post, we'll discuss the dangers of leaning trees and provide tips for how to fix them before they cause any damage. Stay safe out there, homeowners!
Let's pretend you have a leaning tree in your backyard. It has been that way since you moved in 10+ years ago. Who knows why it started leaning. Maybe it was moving toward the best sunlight. Chances are that tree is just as safe as the straight tree you have a few feet away. No need to worry too much about that tree.
Leaning Tree Diagnosis
The tree you need to worry about is the tree where something has changed. Perhaps you have noticed the portion of the tree on the upper side looks a bit bald. The bark has peeled off in places. On the opposite side closest to the ground the tree seems to be compressed. That tree might need to be examined by a Certified Arborist. It might be OK, or it might benefit from a support. Or sometimes the arborist will recommend trimming the tree to better balance the canopy with canopy reduction on the side of the lean.
Tree leans that happen quite suddenly are most concerning. Oftentimes excess water in the soil makes it difficult for the tree to maintain its upright position. With Central Texas heat spells beginning in May and lasting five months or more, it is hard to imagine saturated soils. Yet, saturated soils can occur with weather systems that stall over the Greater San Antonio area. Much of San Antonio has clay soils that tend to swell with water. Home foundations don't like those saturated clay soils and neither do trees.
Storm Damage and Leaning Trees
Trees find saturated soil and strong winds to be an unhappy combination. If your tree is precariously leaning toward your house and you recently noticed cracks in the ground on the side away from the lean, your tree needs a priority evaluation. Our tree evaluations are free. We have an estimate form on our web site that allows you to upload pics if you have them. Or you can call us as well.
It may be necessary to mechanically stabilize the leaning tree until it can be cleared from your house. If your tree should fall on your house during a storm, the first thing we usually do is bring a tarp to protect your roof from water penetration and take photos for your insurance company. Our after hours operators can take your damage report 24/7. We obviously have to wait until the storm danger has passed before our appointment. But certainly, our goal will be to meet with you and coordinate with your insurance company to get the tree out of the way so your roofing company can make repairs.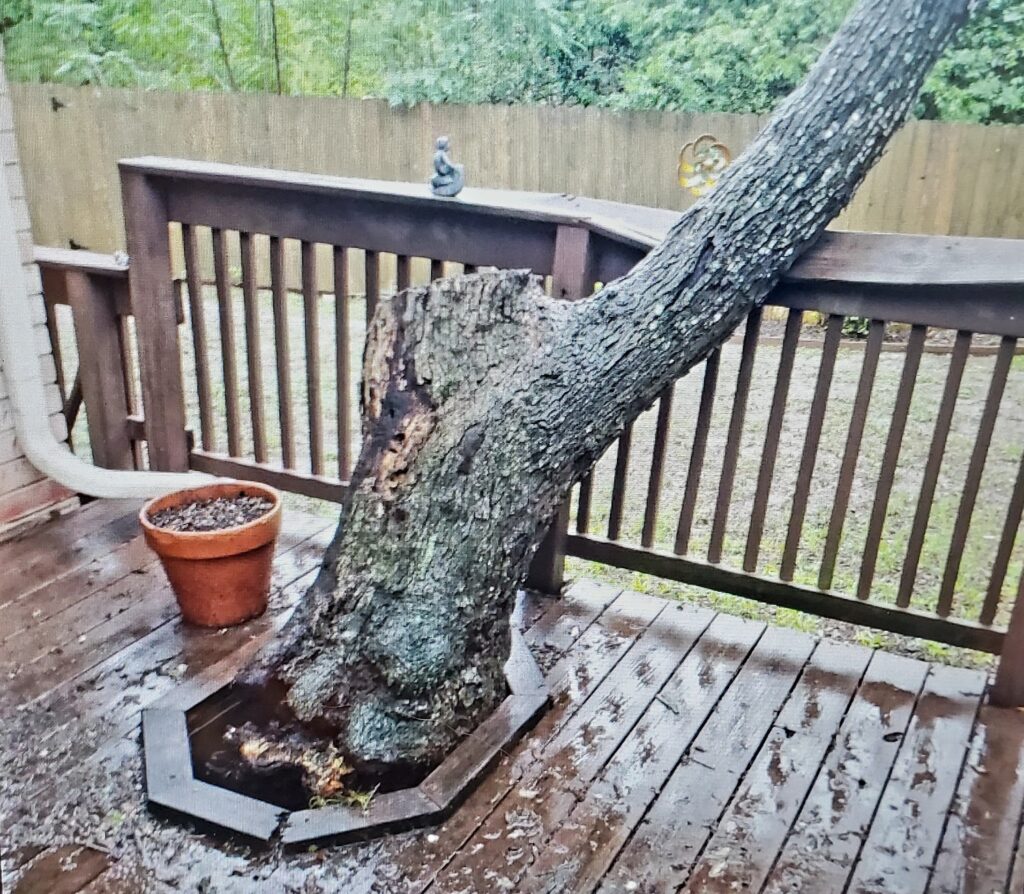 Minor Tree First Aid
The outside of a tree has a protective layer of bark. If the tree has been wounded and water can penetrate into the interior, it is best to heavily paint over the wound (think of putting a band aid on a finger). If the wound is too large for the band aid approach, Canopy Tree Service will devise a cap to cover the injured area. Too often homeowners neglect tree first aid. An insignificant wound left untreated can lead to decay and a hollowed out interior. In the photo of the leaning tree above, there is significant surface space where a limb was removed previously that provided a gateway for moisture to enter the tree.
In conclusion, trees are resilient but they can be weakened by certain environmental factors such as soil saturation, wind or storm damage, or simple wounds. Taking proactive steps to ensure your tree is kept healthy and your property safe can be accomplished through periodic tree maintenance.