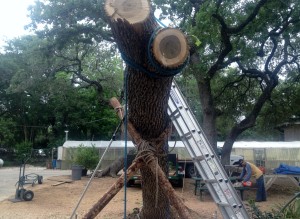 The main goal of arborists is to preserve trees, however that can't always be worked out. There are several reasons that warrant tree removal. The tree removal techniques used depend on those removal reasons plus the location of the tree on the property.
Reasons for tree removal
Sometimes, trees die or just become weakened over time. If you have a tree that you think might be in a diseased state or have pests or call a certified arborist. Order a tree evaluation. Avoid unexpected limb fall. In our tree care business, we have seen a perfectly healthy-looking Cedar Elm tree fall on a house. The only sign of disease was a little bit of cottony white fungus on the trunk.
Amazing when you think about it. Mighty trees can still possess a beautiful canopy while pest and disease cause a hollowed out interior or weak spot. All trees have an average life span. While an oak tree may live for centuries, a Chinese Pistachio may be at the end of its life in only 50-60 years. Ash Trees live about 35 years.
Occasionally, San Antonio ice storms, lightening, or strong wind will cause trees to blow over or the trunk to break. Sometimes the tree is healthy but blocks a distance view or commercial signage. They can stand in the way of prudent development of land.
When an arborist from Canopy Tree Service meets with you to prepare the tree removal estimate, the arborist will first consider any local tree removal ordinances. In San Antonio, Texas, for example, there is a tree preservation ordinance which is effective not only throughout San Antonio but also in its extraterritorial jurisdictional area. This ordinance oftentimes requires a tree permit to be obtained before a tree is removed, particularly with commercial properties or when an occupied home is located in a designated San Antonio Historic District.
Tree Removal Techniques with Safety in Mind
Here are some of the questions we consider when developing a tree removal plan:
What is the size and weight of the tree? Is the size so large that common sense tree removal techniques will require a crane operator?
How much do the limbs weight? Are the limbs so heavy that more than two crew members will need to carry the limb to the truck.
Where is the tree in relationship to where are vehicles must be parked? Can our trucks and equipment get close to the tree?
What about possible hazards to people or property posed by bringing the tree down? The safety of people and protection of surrounding property (including septic tanks) is of utmost importance to the crew at Canopy Tree Service.
What is the expected fall direction and danger zone for people and property.
Is the tree within ten feet of a power line? Tree removal techniques near power lines must follow utility company rules and procedures.
Are there cars parked in a parking lot or on the street or driveway that could be damaged by the removal? What about pets, yard art, patio furniture, trash receptacles? Avoiding property damage is no accident with Canopy Tree Service.
Can the tree be removed during normal business hours or do we need the crew to return to a grocery store parking lot (for example) after 10 p.m. at night to avoid customers.
Tree removal techniques used by Canopy Tree Service have gained the confidence of more than 4000+ customers over the past 25 years. Commercial property owners appreciate the sensitivity given to the timing of a tree removal to avoid normal operating hours for the business whenever possible.
Wet weather can disrupt schedule.
In preparing the tree removal cost estimate, a large tree located in the backyard away from the roadway will require extra time compared with a comparable size tree near a driveway. Once the planning is complete, the job is scheduled. About scheduling. Crew members skilled in tree removal techniques do not work in wet trees. The danger to life and limb when operating a chainsaw on a wet day is too great. Canopy Tree Service strives to complete its tree jobs on the day scheduled but risk to crew and your property is always the priority.
Ropes Play an Important Role in Tree Removal
Arborist's ropes designed to withstand up to 6000 pounds of tensile strength are brought into the tree for a removal. Next, limbs are identified as to order of removal. Each limb is removed and let down in a controlled fall. As the tree limbs are taken down, they are removed to the truck so there is no accumulation in the work zone. Keeping removed limbs out of the work zone is both a safety precaution and efficient use of crew time. If limbs are allowed to accumulate in a pile, they become entangled and difficult to remove.
After the tree has been safely removed, the yard is raked, or parking lot swept to provide a neat appearance. Meeting your expectations for the job, down to the finish up cleaning is a source of pride for us. When you have a job that depends on good tree removal techniques don't hesitate to ask us for details about our safety plan for your home, pets, and property.