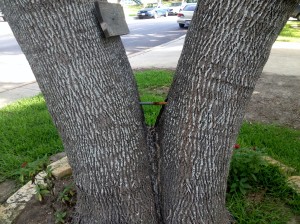 Tree Bracing, and Tree Cabling Provide Tree Support
Tree bracing is one form of mature tree preservation, along with cabling, bolting, waterproofing, and insect treatment. This technique provides rigid support to a tree, limiting limb movement while maintaining safety. Certified Arborists at Canopy Tree Service inspect trees before bracing to ensure there are no hazardous issues. However, if limbs are decayed, removing the tree may be the best option. Our tree removal section provides a free estimate, if needed.
Tree Cabling Can Be Visually Appealing
Tree braces don't have to be unsightly. To create a natural look, consider using cedar posts. These posts can even be modified with a chainsaw to make a perfect seat for the tree. For higher limbs, we custom-fit a tree with a welded drill pipe. Another option is a Stimson post. We attach one end of the tree cable to a hook on top of the post and the other end to the limb needing support. This post offers the added benefit of supporting multiple branches at once through a single setup.
Canopy Tree Service often consults homeowners with stemmed trees sporting "V-crotches," or with trees hosting abnormally large, horizontal limbs that rub against each other, damaging live tissue. Proper bracing and tree cabling entail knowing where to position the cable relative to the limb, how tightly to fasten the attachments, and how to select the right equipment for the job.
Young Trees
To establish the roots, gardeners often stake young trees, with materials available at a garden center. For more details, check out this article and photo from the University of Minnesota extension. While stabilizing newly planted trees is common, self-stabilization of mature trees is not recommended. If bracing is considered, the health of the tree should be evaluated by an arborist beforehand as hazardous trees are not ideal candidates for bracing. In summary, installing tree support systems correctly can reduce but not eliminate all risks.