By Lucas Rumancik, Certified Arborist
The safety of your property is top of mind for most San Antonio homeowners, especially when it comes to trees. After all, a large Oak tree that collapses can cause serious tree damage to whatever is in its path. Fortunately, there are ways to assess the risk of tree collapse and mitigate any potential danger. Canopy Tree Service has Certified Arborists who specialize in identifying areas of concern and helping homeowners evaluate their risk of tree failure. Let's explore how this service works.
Assessing Risk Factors
When assessing the risk of tree failure, our arborists will look at 17 different factors that could indicate a potential problem with the tree. Factors leading to tree damage include things like cracks, cavities, decay, lack of root taper, structural defects, root problems, wounds, flush cutting, codominant stems with included bark, unbalanced crown shape, deadwood, insects, natural/other disturbances, loose bark, and root problems.
In the picture below see the decay? From the ground it would have been impossible for the owner to see this problem. Undisturbed bark hid a large cavity. Our arborist found it in preparation for tree trimming. Regular tree trimming and maintenance by an experienced tree trimming service can help maintain your trees, add beauty, but most importantly help spot trouble before tree damage occurs. Trees are always vulnerable to storms which bring strong winds to Bexar County and Comal counties.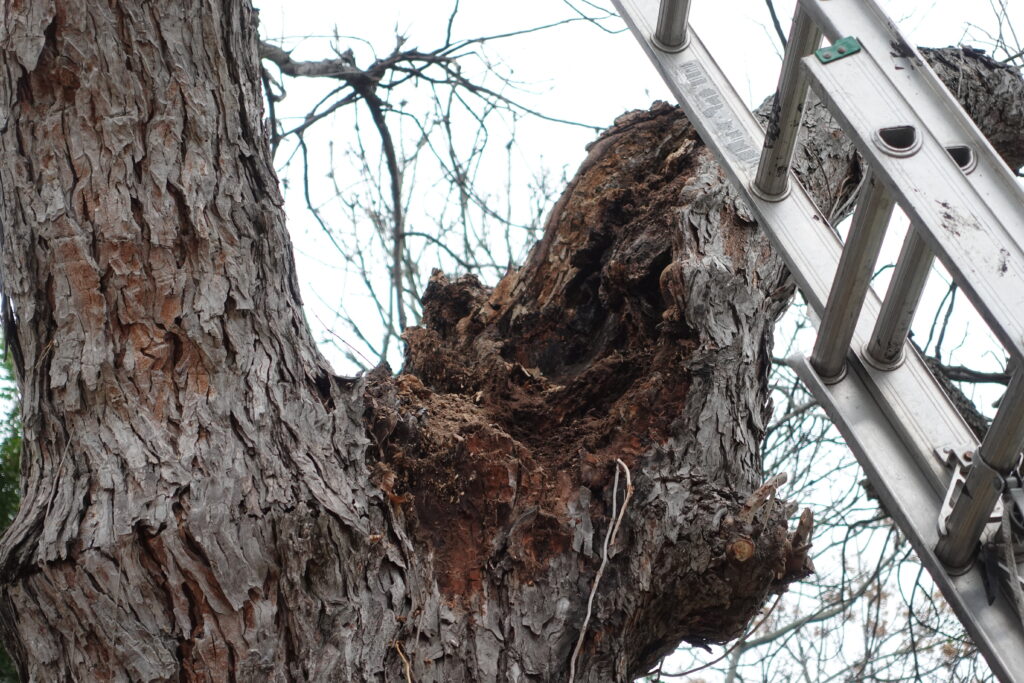 Taking Action to Avert Tree Damage
Once our arborists have looked at both the tree risk factors and any people or property that could potentially be affected by a collapse they will come up with a plan. The goal is to increase your safety and provide peace of mind. In some cases this may involve cutting down or trimming certain branches. Other, less common techniques are for the arborist to cable or brace weak limbs. As a last resort, sometimes the arborist must remove the entire tree. If tree removal is necessary, we guarantee that our report will be based on safety and tree health.
Tree Damage Assessment
The safety and security of your property is important to us. According to the International Society of Arboriculture (ISA) , it is impossible to maintain trees free of risk. But, ISA says tree failures during normal weather conditions are often predictable and preventable. Since tree removals can be expensive, our Certified Arborists use their specialized knowledge and expertise to help identify potential risks associated with trees on your property and see if they can be fixed before further deterioration occurs. Canopy Tree Service recommends periodic maintenance which removes dead wood to help protect your loved ones and property. Your actions just may prevent a collapse on your property or injuries to people or pets. Make sure you get a free assessment done today!
Lucas Rumancik is a Certified Arborist in San Antonio who has been with Canopy Tree Service for five years.