By Lucas Rumancik, Certified Arborist
Heartwood forms the core and innermost layer of the trunk and branches. It provides structural support for the tree, allowing it to stand upright despite strong winds or heavy rain. Did you know it can get damaged and that tree defect be mostly invisible to a San Antonio home owner? One day, much of the tree strength is gone. Then, suddenly, without warning the tree collapses.
This situation can be compared to watching a seemingly healthy young runner participating in San Antonio's Rock 'n' Roll marathon suddenly collapse from a heart attack. You would probably be thinking, didn't see that coming. While it is not feasible to identify 100% of all potential tree defects, regular tree check ups can be performed during routine tree trimming and maintenance. A certified arborist is the professional best positioned to observe and make recommendations about tree defects.
How Heartwood Can Become Damaged
Heartwood is naturally resistant to decay and damage, but it can still succumb to certain sources of deterioration. When heartwood becomes damaged, an open cavity can form.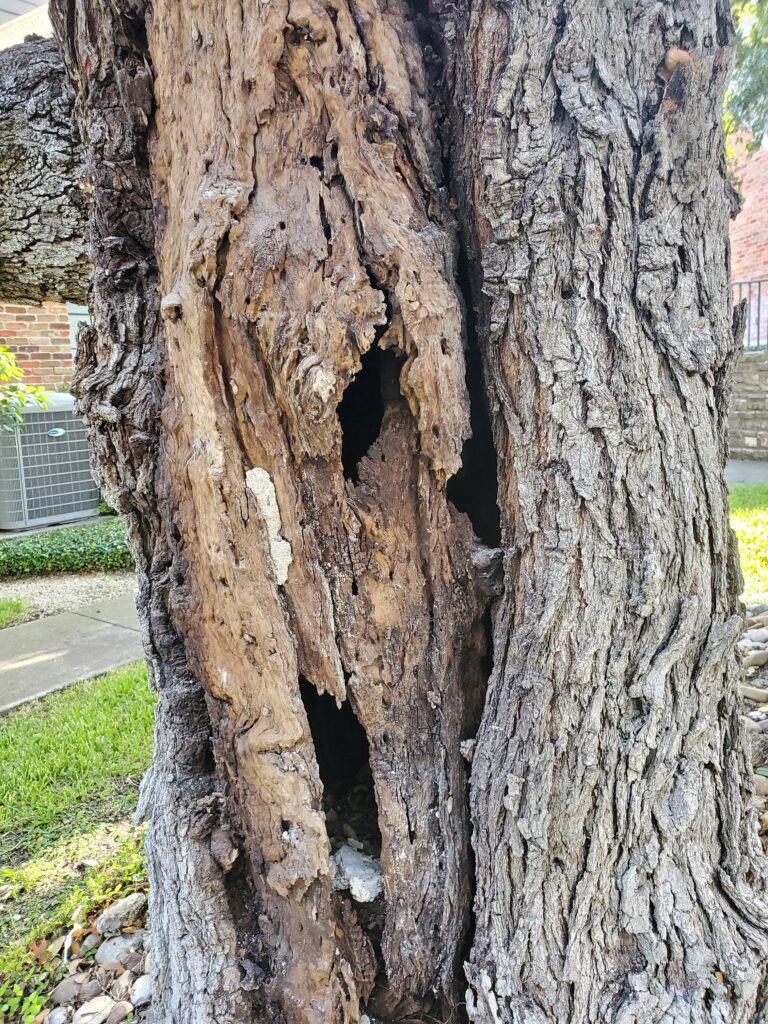 Here are some common causes of heartwood tree defects:
Insect Infestations – Wood-boring insects such as termites, carpenter ants and powder post beetles can feed on heartwood and cause extensive damage.
Fungal Infection – Wet conditions and poor air circulation can foster the growth of fungi, which can attack and weaken heartwood.
Physical Damage – Heartwood is susceptible to splitting, warping or becoming cracked due to direct impact from heavy objects or pressure.
Mechanical trauma – such as storms, high winds, and construction activities. Heartwood can also become weakened due to water damage caused by flooding or improper irrigation, wounds that channel rain into the interior.
Open Cavities Can Form as a Result of Tree Defect
This is an area of the tree's trunk or branch where the wood has been completely consumed by decay. Because the wood has been hollowed out, it no longer provides structural support for the tree's limbs. At this point, the tree typically has to be removed if it is growing in any of the following areas:
landscaping around homes or other buildings
street trees
inside developed recreation areas such as car campgrounds
urban parks
San Antonio has more than 150 miles of greenway trails to enjoy and it is important to remember that in most cases, it is not practical to remove trees with decayed heartwood or other tree defects in natural areas.
In order to protect the integrity of heartwood, it's important to monitor the environment around urban trees and take steps to reduce any potential damage. Regular inspections should be conducted to check for signs of decay or infestation. If you have a concern about your tree, we at Canopy Tree Service would be happy to visit with you about your concern at no charge. We have a form where you can request this service. We may recommend pest control methods to prevent insect infestations, or suggest modifying irrigation patterns to help protect against water damage, or provide a cap to divert water from entry into a wound. Taking preventive measures can help ensure heartwood remains structurally sound.
Lucas Rumancik is a Certified Arborist in San Antonio who has been with Canopy Tree Service for five years.