By Lucas Rumancik, Certified Arborist
Do you have a tree in your yard that looks like it's beginning to die? The roots of a tree nourish and stabilize the tree. Environmental disturbances can compromise this important role. Common residential tree root problems can be caused by an enlarged driveway or new pool. At first this damage may not be evident. Later, tree growth may be compromised, and the tree may start to lean or the soil heave. In extreme cases, tree removal may be the only solution. In this article we'll look at why serious root problems are one of the reasons for needing to remove other wise lovely trees from yards. This may help in planning your landscaping projects.
Tree Protection Zone (TPZ)
This zone is where the tree takes in nourishment and the roots provide stability for the tree. Home owners need to protect the TPZ zone around their trees. About the easiest way to think in general terms about a tree protection zone is to look at the tree canopy and think of the protection zone as just outside the drip line. The canopy is the area of shade created by its branches, leaves and needles. The protection zone can actually extend a bit beyond that area. There are formal ways the arborist would measure that zone. Basically, in simplistic terms, the arborist measures the diameter of the tree and multiplies that by about one and a half feet for each inch.
Tree root problems can arise from Landscaping in the TPZ
Under ideal conditions, grasses, bushes or flowers do not compete with the tree in this zone. Likewise, it also helps if the moisture levels are just right for the tree. Customers of Canopy Tree Service will often be disappointed to learn that St. Augustine grass might thrive under the shade of a tree during our hot Texas summers. Unfortunately, the grass diverts nutrients and moisture from roots of the tree and reduces the soil quality.
San Antonio driveways cause another conflict with tree growth and stability. Newer driveways in particular are simply too short for the needs of households Texas-size SUV's and F-150s. A common solution is to enlarge the driveway. Subsequently, humans and cars ends up compacting the soil. This restricts root growth and decreases the availability of minerals and oxygen, according to an article from Colorado State University Over time, tree root problems begin to take root.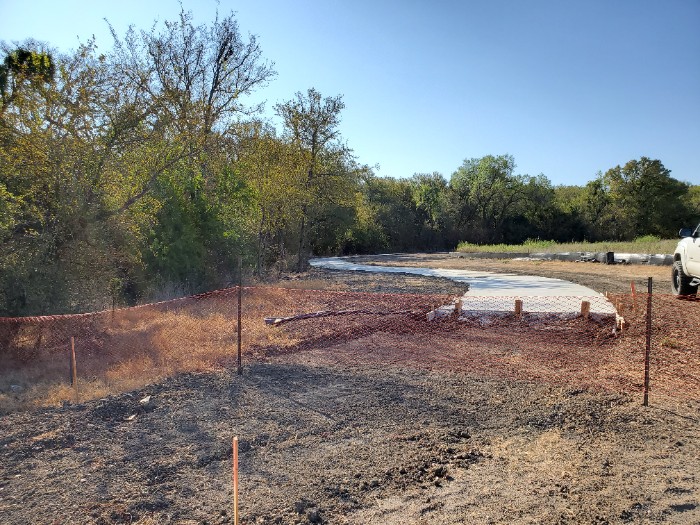 With good planning on commercial projects such as the greenway trail expansion in San Antonio (shown in the photo) tree root problems can be avoided.
Lucas Rumancik is a Certified Arborist who has worked for Canopy Tree Service for five years.