By Melinda Magee. Business Manager
Dozens of well-maintained, mature Live Oaks dot Union Square. Commercial tree trimming at this Class A office complex adds value. Over the years, Canopy Tree Service has taken care of the trees here. We prune dead or diseased limbs so they don't fall on people or cars.
Insurance, plus experienced crews wearing PPE creates predictability and layers of protection for commercial building managers. Using pole saws, Canopy Tree Service recently lifted the tree canopy at this building. We improved structural safety while enhancing the crisp appearance of the landscaping. Here at 10001 and 10101 Reunion Place, the end result was better building and sign visibility. For example, here two signs can be clearly seen, including the one for Emegy Bank. Sign visibility attracts both tenants and customers to the property. With commercial tree trimming, creating sign visibility while maximizing tree health is crucial. Too much pruning can make a tree vulnerable, especially during unusually cold weather. To see the trees at this 325,000 square foot property, from 410 and 281, take 281 north to the Jones Maltsberger Road exit. Building is on right hand side at Reunion Place.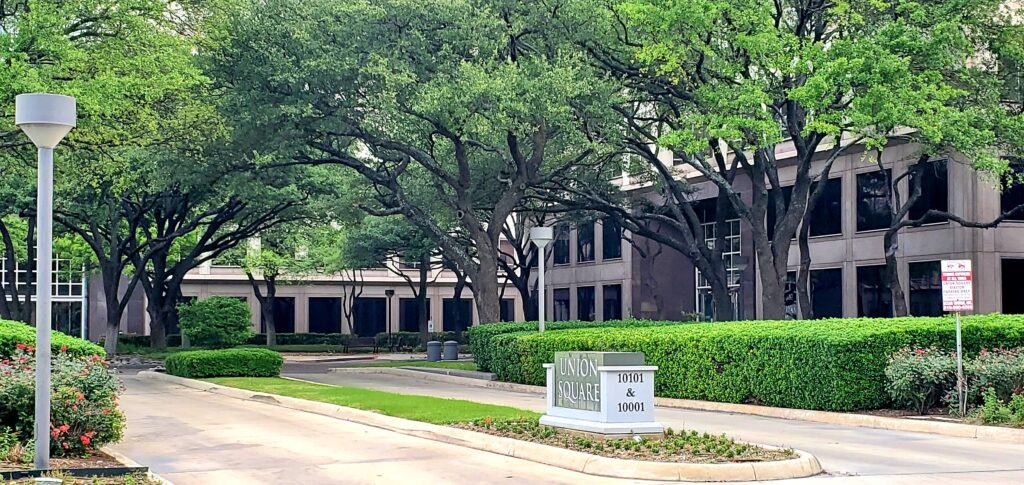 About 30 percent of our customers request commercial tree trimming services. Sometimes they need the trees lifted around a commercial building. Other times, they need a tree removed. Sometimes they call us; other times they complete the form on our web site: https://canopytreeservice.com/tree-trimming/free-trim-estimate/. With the recent freeze, tree removals are up. Canopy has been prioritizing emergency removals for obvious reasons but is fairly caught up from Winter Storm Uri. There are many reasons for companies call us for tree care work. Above all, our experience and comprehensive insurance resonates with them.