By Lucas Rumancik, Certified Arborist
Cortland Estates creates an inviting look to its exterior with a team of landscaping professionals who trim the lawns, plant flowers, and maintain the trees. Last week Canopy Tree Service provided the trees with a maintenance tree trim. Using pole saws our workers performed selective pruning on mostly young trees. This type of trim encourages new growth by redirecting resources away from less desirable growth, resulting in fuller and more attractive trees.
What makes living at Cortland Estates special is the attention to the resident experience from clean, smoke free air, to spotless grounds. For this, the apartment complex off of Bulverde Road at TPC enjoys a five-star rating. But creating a beautiful and inviting landscape is only one of the goals of regular tree maintenance. By regularly pruning trees, Corland Estates is reducing potential risks from falling branches while still maintaining a healthy and attractive tree canopy. The trees trimmed last week were 15-20 feet tall and included Chinese Elms, Cedar trees and more. The debris were recycled into mulch.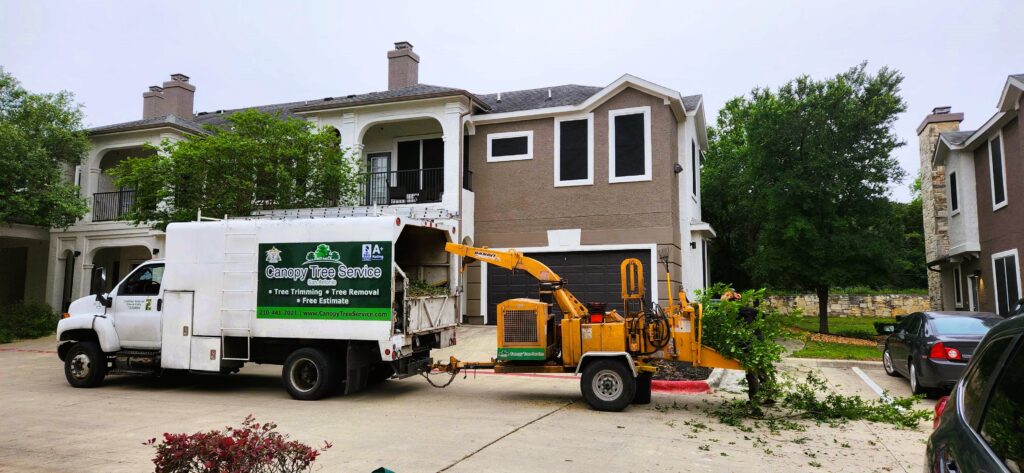 Regular pruning by experienced arborists also helps spot potential trouble spots in the landscape. Examples of these range from structural problems to pests or fungus to damaged roots. Roofs benefit from regular tree maintenance. Limbs that grow too close to a roof can act as a conduit for racoons. Also, wood-eating insects can cause building damage. Racoons, in particular, can cause major damage if permitted to take up residence in the walls of an apartment. If they become trapped and die inside the walls, the smell is very unpleasant and difficult to eradicate. The limbs can also damage roof tiles, fascia, and soffits. For this reason, limbs should be at least two feet from the roof edge. By staying on top of maintenance tree trimming needs, apartment complexes can ensure their properties are safe and looking great. Learn more about our tree trimming service. We offer free estimates.
Lucas Rumancik is a Certified Arborist in San Antonio who has been with Canopy Tree Service for five years.